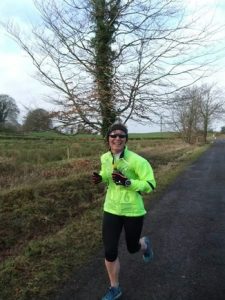 Q1.When did you start running and what got you interested in running?
I started running 16 years ago when I lived in Saudi Arabia. A lovely American friend of mine, Sarah who was a beautiful, very fast runner encouraged me to run my first 5k in the desert.
Q2. How many marathons have you run?
71
Q3. What's your favourite event?
I love different marathons for different and of course I love all the MCI events but I ran my second marathon in New York and I remember feeling this is just unreal. Whenever I am asked if I had to choose one marathon ever what one would I do, I tell them to do New York, for the pure magnificent occasion!
Q4. How many miles do you run in a typical week?
My weekly milage depends if I have a marathon on that week or not but typically only 5 fast miles on Monday, Tuesday and Wednesday. I swim 60 lengths on Thursday and run 10-12 miles over the weekend.
Q5. What's your best ever running performance?
My best performances are those rare days when it just feels easy. I had one in February in the MCI event in Killeigh. I ran 4.01 and was racing to the line thinking you idiot you could have done a PB today!
Q6. What running shoes do you wear and do you wear racing flats?
I don't wear racing flats. I wear Brooks Ghost
Q7. What was your worst marathon experience?
My first marathon was my worst experience. It was in Dubai in 2005. I didn't feel well going in to it but thought how bad could it be. The race started at 7am and by 10k I knew I was in trouble. I was used to heat but not humidity[Saudi has dry heat]. At 30k, I was walking. I crossed the line and burst out crying, that had been one of the hardest things I had ever done and I had given birth 4 times!!
Q8. How fast could you run a mile on a track?
I haven't timed myself but I would like to think that I could get under 7 minutes and then probably get sick!
Q9. What's your marathon PB?
2008 Dublin 3.57
Q10. What's the best piece of training advice you were ever given?
It's from your toughest races you learn the most.
Q11. Have you ever had a serious running injury?
I was out for 6 months in 2010 with a problem with my pelvis. Thanks to Michael Davies of Well Shod I was back in time to do my one and only marathon of 2010, the Clonakilty marathon.
Q12. What training session do you find the hardest/dislike the most and what's your favourite session?
I don't like speedwork[who does], I always get injured. I love running hills.
Q13. What is the longest race you have completed?
Only the marathon for me.
Q14. Do you have a Favourite quote running or otherwise?
The Man in the Arena speech delivered byTheodore Roosvelt to the Sorbonne in 1910. Too long to put here but worth looking up….it finishes, the man in the arena
who at the best knows in the end the triumph of high achievement, and who at the worst, if he fails, at least he fails while daring greatly……"
Q15. Weirdest food you've ever eaten during a marathon?
Gels, completely hate the things. I have finshed so many marathons and been so sick for hours afterwards because of them.
Q16. Strangest thing you've ever seen during a marathon?

I suppose it all seems so normal to me now that I don't find anything strange. But one of the strangest finishes I had to a marathon was in Krakow in Poland when I ran over the line shouting does anyone speak english, I am 2 miles short on my watch. A marshal ran forward and told me I was meant to do one lap of the park before I ran into the finish. He cleared a path for me and out I went again. Crossed the finish line again to realise my buddies had made the same mistake. You must always listen to the race brief, even if it is in Polish!
Q17. What usually goes through your head as you cross the finish line of a marathon?

I am so glad I can stop running.
Q18. Do you get narky if you don't get a run in?
Three days max, I just love running!
Q19. Have you ever considered how you'd handle it if you couldn't run again? 
Believe it or not I have thought about this when I was out for 6 months in 2010. I took up biking then and I still have my bike. I am a fair weather cyclist now and enjoy cycling as long as there is a coffee involved somewhere on the route.
Q20. What event have you not yet completed that you would like to do the most in the future?
When I started running marathons my goal was to do the 5 majors[there are 6 now, but Tokyo is not on my list]. I have 4 of the 5, Boston is my last one.