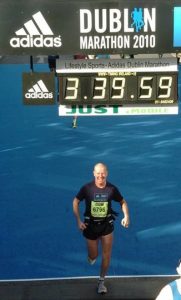 Q1.When did you start running and what got you interested in it?
I used to train regularly during my time in the irish defence forces, upon discharge into civvie life I let things go. I started back training in late 2008 after I heard the pop, that was the sound my head made after it reemerged from my ass.
Q2. How many marathons have you run?
4 & 1 Ultra.
Q3. What's your favourite event?
Clonakilty, I stopped focusing on time and just ran, it was fantastic.
Q4. How many miles do you run in a typical week?
It depends on the event around 50 for a marathon, for the Connemara ultra I got up to 60 plus.
Q5. What's your best ever running performance?
All depends on your definition of performance , did 3:38 in Dublin and found it tough .In Clonakilty I threw out the watch and enjoyed every mile.
Q6. What running shoes do you wear and do you wear racing flats?
Asics no flats. Cheated on my asics once and paid the price
Q7. What was your worst marathon experience?
Connemara 2011 over trained got a stress fracture in my shin, had to stop running 3 weeks prior to the day, contrary to advice I ran the marathon and suffered from mile 12 , a lot of lessons learned.
Q8. How fast could you run a mile on a track?
Don't know
Q9. What's your marathon PB?
3:38
Q10. What's the best piece of training advice you were ever given?
Listen to your body.
Q11. Have you ever had a serious running injury?
Yes stress fracture left shin, took 8 weeks to heal, classic rookie mistake, over trained.
Q12. What training session do you find the hardest/dislike the most and what's your favourite session?
Don't really dislike any of my training sessions, I just love to run especially the long back to back runs at the weekend
Q13. What is the longest race you have completed?
Connemara Ultra in 6:25
Q14. Do you have a favourite quote [running or otherwise?]
One that always sticks in my mind from my late brother ex Irish army ranger " Don't quit till you are either dead or in hospital ".
Q15. Weirdest food you've ever eaten during a marathon?
Nothing weird yet, don't like to try anything out that I haven't trained with
Q16. Strangest thing you've ever seen during a marathon?
That's a tough one, it's a toss up between a guy dressed up as nacho libre in Clonakilty face mask and all. And mankini man in Dublin 2011, Ouch, needless to say he could have shaved or waxed, because he looked like a burst matress
Q17. What usually goes through your head as you cross the finish line of a marathon?
Where's Paula ? My wife she's either volunteering at the event or competing herself.
Q18. Do you get narky if you don't get a run in?
If I miss out on a week's training it would be pulp fiction time
Q19. Have you ever considered how you'd handle it if you couldn't run again?
I'm into road biking and do a lot of gym work , so I guess I would focus on that.
Need that endorphin fix somehow
Q20. What event have you not yet completed that you would like to do the most in the future?
There's so much I want to do in the future including Dingle ultra and Comrades , but the one event that sticks out the is Iron man.