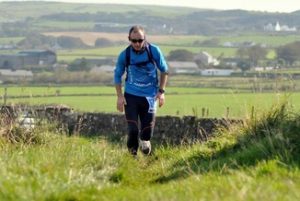 Q1.When did you start running and what got you interested in it?
I started running in 2002 and ran my first marathon in 2008.
Q2. How many marathons have you run?
75 – At least +1 Weekly (MO)
Q3. What's your favorite event?
Donegal Quadrathon
Q4. How many miles do you run in a typical week?
40 – 50 when training, when running back to back marathons I could run 100+ miles per week.
Q5. What's your best ever running performance?
Dingle Marathon this year
Q6. What running shoes do you wear and do you wear racing flats?
I run in asics gel kayanos
Q7. What was your worst marathon experience?
The Wicklow way ultra 2013
Q8. How fast could you run a mile on a track?
7 mins never tried it
Q9. What's your marathon PB?
3:43
Q10. What's the best piece of training advice you were ever given?
Get the long runs in and loads of speed work.
Q11. Have you ever had a serious running injury?
Yes. Was out for over 18 months with pelvic injury
Q12. What training session do you find the hardest/dislike the most and what's your favorite session?
For me speed work is a killer, I like the long runs most. You can just go out and run and feel good after.
Q13. What is the longest race you have completed?
Courtmacsherry waterfront marathon in co west cork 36 mils
Q14. Do you have a Favorite quote [running or otherwise?
Larry once said to me as I passed him "Hi the medal is the same for all of us"
Q15. Weirdest food you've ever eaten during a marathon?
Blackberry out of the hedge
Q16. Strangest thing you've ever seen during a marathon? In Sixmilebridge Co. Clare this year
I ran 10 marathons in 10 day and every day I saw a nipple plaster in the same spot for the 10 day.
Q17. What usually goes through your head as you cross the finish line of a marathon?
What and where can i find the next race,
Q18. Do you get narky if you don't get a run in?
Yes some time I would be narky, I love to get out most days to clear the head.
Q19. Have you ever considered how you'd handle it if you couldn't run again?
Don't think about that, best keep it positive.
Q20. What event have you not yet completed that you would like to do the most in the future?
Marathon Des Sables.