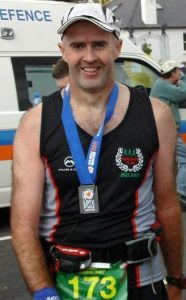 Q1.When did you start running and what got you interested in it?
Started running when i was 17, mostly cross county took a break for a long time then started again in 2008
Q2. How many marathons have you run?
54 to date including a section of trail and ultra events
Q3. What's your favourite event? 
London to Brighton Trail run, really enjoyed that.
Q4. How many miles do you run in a typical week?
Not one for keeping track of miles
Q5.  What's your best ever running performance?
So far has to be completing 100 mile Connemara ultra race in 2010
Q6. What running shoes do you wear and do you wear racing flats?
Wear Nike Air zoom and thats it, find them a great runner even on trails
Q7. What was your worst marathon experience?
Can't say i have a worst marathon experience, any bad ones i take in a positive way as a learning experience
Q8. How fast could you run a mile on a track?
Depends who is running behind me, never timed myself really, not a speed merchant although had a 10.41 for 2 miles in my younger days
Q9. What's your marathon PB?
03:48
Q10. What's the best piece of training advice you were ever given?
Run your own race and dont worry about others
Q11. Have you ever had a serious running injury?
Besides a bad spiking in cross country years ago am lucky enough to have escaped anything major
Q12. What training session do you find the hardest/dislike the most and what's your favourite session?
No dislike to any or have no favourite either
Q13. What is the longest race you have completed?
Connemara 100 mile (so far)
Q14. Favourite running quote?
Pain is temporary but pride is forever
Q15. Weirdest food you've ever eaten during a marathon?
Nothing out of the ordinary here
Q16.  Strangest thing you've ever seen during a marathon?
Streakers on way to Great Limerick marathon 2 years ago would be the strangest
Q17. What usually goes through your head as you cross the finish line of a marathon?
My next marathon
Q18. Do you get narky if you don't get a run in?
No if it happens it happens
Q19. Have you ever considered how you'd handle it if you couldn't run again?
Never , all think positive , if it happens it happens
Q20.  What event have you not yet completed that you would like to do the most in the future?
Comrades or Marthon Des Sables