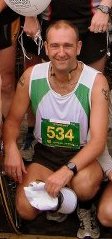 Q1.When did you start running and what got you interested in it?
I'm 48 years old and don't think I've ever walked…lol.
Q2. How many marathons have you run?
It's 22 and counting.
Q3. What's your favourite event?
It's a toss-up between Dingle and the Clare-Burren. Clare Burren just shading it, as it's the event that got my interest back.
Q4. How many miles do you run in a typical week?
Average of 54 miles per week.
Q5.  What's your best ever running performance?
3 hrs. 57 mins in Dingle 2009 as I tore my right  glut at 11 mile.
Q6. What running shoes do you wear and do you wear racing flats?
I always used ASICS but I've changed to Brooks prior to Clonakilty and believe they are the best shoe I've ever worn.
Q7. What was your worst marathon experience?
Salthill to Invern and back………..almost died of boredom.
Q8. How fast could you run a mile on a track?
Don't know.
Q9. What's your marathon PB? 
2hr 51 mins Dublin 1997.
Q10. What's the best piece of training advice you were ever given?
Don't be afraid to try something different.
Q11. Have you ever had a serious running injury?
Does getting older and slower count.
Q12. What training session do you find the hardest/dislike the most and what's your favourite session?
Speed-work and the favourite is long slow distance (further the better).
 Q13. What is the longest race you have completed?
Marathon.
Q14.  Do you have a Favourite quote running or otherwise?
"What else would you be doing at the weekend??????"
Q15. Weirdest food you've ever eaten during a marathon?
??????????????
Q16.  Strangest thing you've ever seen during a marathon?
Being passed by a banana.
Q17. What usually goes through your head as you cross the finish line of a marathon?
Porter
Q18. Do you get narky if you don't get a run in?
Very much so, I can be unbearable but I think I'm mellowing with age.
Q19. Have you ever considered how you'd handle it if you couldn't run again?
Doesn't bear thinking of but I'd try something.
 Q20.  What event have you not yet completed that you would like to do the most in the future?
The Eddie Murphy missed it due to illness so it's on the cards for this year.