Q1.When did you start running and what got you interested in it?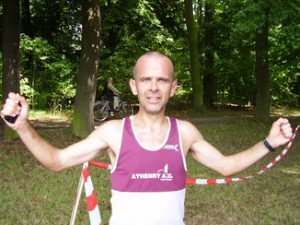 I had tried and failed to train for a marathon as a teenager, but then got going again around Christmas 1998. A combination of boredom, curiosity and not wanting to be too old to run, got me off the couch and into the Phoenix Park in Dublin.
Q2. How many marathons have you run?
49
Q3. What's your favorite event?
Dublin City marathon
Q4. How many miles do you run in a typical week?
50 – 60
Q5.  What's your best ever running performance?
Connemara 100 Mile, 2010 – 14:27:06
Q6. What running shoes do you wear and do you wear racing flats?
Trainers – ASICS Gel Cumulous
Racers – Brooks Green Silence
Q7. What was your worst marathon experience?
Portumna 50km 2011 – Went from running, to sleeping on the grass, to the back of an ambulance. There are still large parts of that day I don't remember. It's still a great race; I just wasn't able for it that day. I'll be back 😉
Q8. How fast could you run a mile on a track?
Have done 5:11 years ago, would like to think I'd get that a little lower with practice.
Q9. What's your marathon PB?
2:44:31 (Dublin, 2010)
Q10. What's the best piece of training advice you were ever given?
Join a club!
Q11. Have you ever had a serious running injury?
Have had at least two stress fractures, but nothing that kept me off the road for more than 8 10 weeks.
Q12. What training session do you find the hardest/dislike the most and what's your favorite session?
Hardest – Hill repeats
Favorite – Tempo
Q13. What is the longest race you have completed?
Did 109 miles in a 24 Hour race, otherwise have run three 100 milers.
Q14.  Do you have a Favorite quote running or otherwise?
I was passing rocks and trees like they were standing still
– Red Fisher
Q15. Weirdest food you've ever eaten during a marathon?
Gruel (Leipzig 100k, 2008)
Q16.  Strangest thing you've ever seen during a marathon?
Ray O'Connor's arse (Dublin Marathon, 2005)
Q17. What usually goes through your head as you cross the finish line of a marathon?
"Thank f*** that's over!"
Q18. Do you get narky if you don't get a run in?
Moi?
Q19. Have you ever considered how you'd handle it if you couldn't run again?
Yes, but not for long.
Q20.  What event have you not yet completed that you would like to do the most in the future?
Comrades