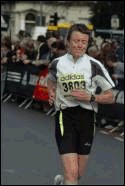 Q1.When did you start running and what got you interested in it?
In 1996. A few friends from work went to an Orienteering event and I went along. When
one of the lads started to run I tried to follow but didn't get very far.
Because it was part of an Inter-firm competition I thought I'd better start
training and try to improve a bit. I continued with the Orienteering for a
few years and then moved to road races and eventually to the Marathon.
Q2. How many marathons have you run?
101
Q3. What's your favourite event?
The Marathon.
Q4. How many miles do you run in a typical week?
40
Q5. What's your best ever running performance?
Comrades in 2007 – in my preparation I could never imagine completing 56 miles, being on the road
for over ten hours. I was over the moon when I finished. As it happened I was the first Irish person to finish that year.


Q6. What running shoes do you wear and do you wear racing flats?
Asics – no
Q7. What was your worst marathon experience?
There were parts of a few I could happily forget but even then there was always something happened to lift me.
Q8. How fast could you run a mile on a track?
No idea
Q9. What's your marathon PB?
4 hrs 10 mins
Q10. What's the best piece of training advice you were ever given?
Back to back long runs if you can't get a really long run in.
Q11. Have you ever had a serious running injury?
No
Q12. What training session do you find the hardest/dislike the most and
what's your favourite session?
Track sessions and the long run, especially when I am trying to get back in shape; tempo run.
Q13. What is the longest race you have completed?
56 miles, Comrades.
Q14. Do you have a Favourite quote [running or otherwise?]
No
Q15. Weirdest food you've ever eaten during a marathon?
None – I only take the oranges and energy drinks available
Q16. Strangest thing you've ever seen during a marathon?
Never took any notice
Q17. What usually goes through your head as you cross the finish line of a
marathon?
It depends, sometimes just relief at finishing, that happened a lot last year. If things have gone well – not really sure but it certainly feels good.
Q18. Do you get narky if you don't get a run in?
Not any more – there's usually a good reason if I have to change plans.
Q19. Have you ever considered how you'd handle it if you couldn't run
again?
Well I'd just have to get on with things – the one thing I've learnt is that you can't get too caught up on goals and you just have to accept and deal the best you can with what life throws at you.
Q20. What event have you not yet completed that you would like to do the
most in the future?
San Francisco – hopefully next year.