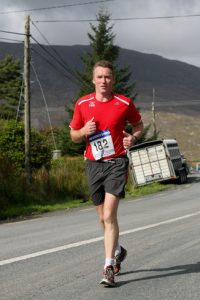 Q1.When did you start running and what got you interested in it?
I've been running since the eighties.Treacy's run in the 84 olympics got me intrigued by long distance running.I distinctly recall Jimmy Magee in commentary that night saying that Lopez had run 30mile training runs.I remember in my innocence wondering if that was the furthest anyone had ever run..obviously, I hadnt heard of Pat O'Keeffe at that stage.
Q2. How many marathons have you run?
30
Q3. What's your favourite event?
I thoroughly enjoyed the Eddie Murphy memorial ultra event in sixmilebridge this year
Q4. How many miles do you run in a typical week?
I'm averaging 40 so far in 2012
Q5. What's your best ever running performance?
Running 3.53 in Dublin '03 while dressed as George Bush.I was meant to chase my running partner,Saddam,up the home straight, but he fell into a wardrobe while putting on his trousers the day before the race, and ran a disappointing 4.20 on the day.
Q6. What running shoes do you wear and do you wear racing flats?
I take a scientific approach to this. When they get smelly, i buy a new pair, normally of a different colour.
Q7. What was your worst marathon experience?
Clonakilty before christmas this year. Less said the better.
Q8. How fast could you run a mile on a track?
Did 5.45 in a goal mile years ago, probably 6 now.
Q9. What's your marathon PB?
3.45
Q10. What's the best piece of training advice you were ever given?
Not sure, but for the worst advice I've been given, see the next question..
Q11. Have you ever had a serious running injury?
Yes, 18 months ago this week I was told to take at least 18 months off running due to a back injury. I told the doc that I'd go off my head. He suggested swimming, but I didn't fancy drowning. I lasted 6 months without running, but then went back and I've done 15 marathons since. The 18 months are up, so I can go back to it properly now.
Q12. What training session do you find the hardest/dislike the most and what's your favourite session?
LT runs/ LSR's
Q13. What is the longest race you have completed?
Conn ultra
Q14. Do you have a Favourite quote running or otherwise?
If we did everything we're capable of, we'd astound ourselves (Edison)
Q15. Weirdest food you've ever eaten during a marathon?
Rhubarb and custard gels.(I can still taste 'em)
Q16. Strangest thing you've ever seen during a marathon?
In Dublin 91, I passed a runner on the roadside who judging by the faces of the emergency services had obviously passed on. I think of him briefly on each start-line since.
Q17. What usually goes through your head as you cross the finish line of a marathon?
That's another 4 hours of staring at Ken Begg's singlet over..
Q18. Do you get narky if you don't get a run in?
Narky,no, but guilty,yes.
Q19. Have you ever considered how you'd handle it if you couldn't run again?
Yes. See Q 11.
Q20. What event have you not yet completed that you would like to do the most in the future?
Dingle 50 this year looks attractive.